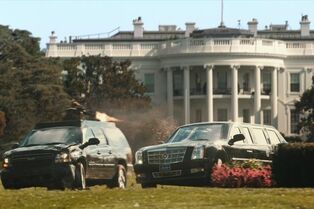 The White House
is the official residence and principal workplace of the President of the United States, located at 1600 Pennsylvania Avenue NW in Washington, D.C.
Description
Edit
It has been the residence of every U.S. president since John Adams in 1800, and the term is often used by journalists as a metonym to refer to the acts of the President and his top advisors.
While the President usually operates out of the Oval Office, the White House has a secure underground bunker designed to protect the President and his/her staff in the event of an attack on the White House. It is called the PEOC (Presidential Emergency Operations Center) and located under the East Wing, according to WikiLeaks (on White House Down).
However, in White House Down, the building retains severe damage. The building remains intact in the film, but it is nearly destroyed as a result of gunfire, explosions and car crashes.
White House Down
Edit
White House Down is a more accurate depiction of the White House's interior than Olympus Has Fallen, which doesn't explore very much of the building. At the end of White House Down, John Cale sets the building on fire and crashes through the Oval Office in a limousine, and Emily Cale saves the building from an airstrike.