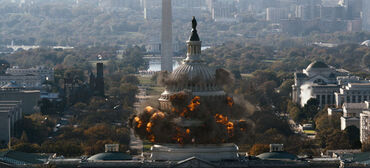 The United States Capitol Building
 is where the Senate and the House of Representatives meet. It was constructed during Abraham Lincoln's presidency. 
It was destroyed by a bomb planted by Conrad Cern in White House Down.
Description
Edit
In White House Down, the terrorists disguise themselves as janitors and roll a bomb into the middle of the rotunda before setting it off, which causes the dome to collapse, distracting the police from a takeover of the White House.
In both 1994 and 2001, the United States mint produced commemorative dollars and half dollars commemorating the bicentennial and visitor center, respectively. The visitor's center half dollar is available at the visitor's center for fifteen dollars, the value of the coin.
Locations
Edit
Rotunda (dome)
Brumidi Corridors
Capitol Visitor Center
Cox Corridors
Crypt
House Chamber
Senate Chamber
Hall of Columns
Old Senate Chamber (marks spots where former presidents sat)
National Statuary Hall
Small Senate Rotunda
Small House Rotunda
Old Supreme Court Chamber
Basement (features Abraham Lincoln's bathtub)