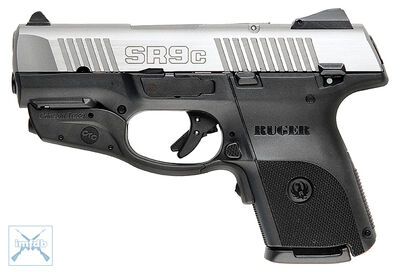 The Ruger SR9c
is a semi-automatic pistol manufactured by Sturm, Ruger & Company. At 1.18 in (30.0 mm) thick through the grip, it is touted by Ruger as one of the thinnest double-stack pistols available. The SR9c is the compact version of the SR9.
A Ruger SR9c with a stainless steel slide was the personal sidearm of Emil Stenz in White House Down. 
Description
Edit
The SR series has been marketed as a backup/concealment weapon for law enforcement as well as for civilian concealed carry. The Ruger SR9 chambered for the 9x19mm Parabellum cartridge was introduced in October 2007, and the slightly smaller SR9c came out in January 2010. The SR9c is lighter and dimensionally smaller compared to the SR9, but it has the same grip width (measured across safety levers) as the full-sized SR9. The manual safety, adjustable rear sights, and updated version of the trigger are all present in the compact version also. In contrast to the SR9 recoil spring assembly the SR9c pistols are fitted with a dual recoil spring assembly. The SR9c is normally supplied with two magazines. The standard 10 round compact magazine features a flat bottom floor plate, with an extended floor plate also included. The second magazine is a full-size 17 round unit featuring a grip adapter that transforms the short compact SR9c grip into a full-sized grip. However, in jurisdictions where the number of rounds in a firearm are limited by law the SR9c is shipped from Ruger with two 10-round magazines and two extended floor plates. Additional retraction grooves (serrations) are located on the front sides of the SR9c slide, making it easier to operate and press-check the slide. The Ruger SR9c was chosen as the Shooting Industry Academy of Excellence's Handgun of the Year in 2010.
White House Down
Edit
Emil Stenz drew his SR9c during the rooftop fight sequence, but never fired it. He later entered the Blue Room with it. Stenz only actually fired his SR9c once in the entire movie, when he shot Roger Skinner in the leg. He later pulled the SR9c on Donnie the Guide when he defended Emily Cale because Stenz smacked her. Stenz later held the SR9c on Emily and told her that she was going to die first when the White House was invaded by the army.
Stenz's SR9c was equipped with a stainless steel slide and an extended 17-round magazine with a grip adapter.