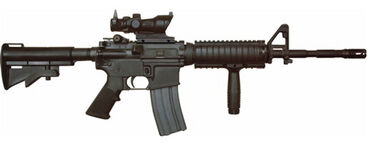 The M4 carbine is firearm design that was derived from earlier carbine versions of the M16 rifle, which was in turn derived from the original AR-15 rifle that Eugene Stoner designed and ArmaLite manufactured.
It was used by soldiers in White House Down.
Description
Edit
The M4 traces its origins to a variant of the CAR-15 which is based on the M16 and all based on the original AR-15 made by ArmaLite. It is a shorter and lighter version of the M16A2, with 80% parts commonality with the M16A2. The M4A1 has selective fire options including semi-automatic and full-auto. It fires the 5.56x45mm NATO round, and is suitable for C.Q.C. Although the M4 has less effective range than the longer M16, many military analysts consider engagement with a non-specialized small arm above a range of 300 meters (330 yd) to be unnecessary. It is effective at ranges of 150 meters (160 yd) or less and has a maximum effective range of about 500 to 600 meters (550–660 yd). It is a gas-operated, magazine-fed, selective fire, shoulder-fired weapon with a telescoping stock and 14.5 in (370 mm) barrel to ease close quarters combat. Like the rest of the M16 family, it fires the .223 caliber, or 5.56 mm NATO round.
The M4 has selective fire options including semi-automatic and three-round burst (like the M16A2 and M16A4), while the M4A1 has the capability to fire fully automatic instead of three-round burst (like the M16A1 and M16A3). The carbine is also capable of mounting an M203 grenade launcher (the M203A1 with a 9-inch barrel as opposed to the standard 12-inch barrel of the M203 used on the M16 series) as well as its successor, the M320 grenade launcher.
The M4 carbine is heavily used by the U.S military. It will eventually replace the M16 rifle for most combat units in the United States Army. The winner of the Individual Carbine competition was to supplement the M4 carbine in U.S. Army service; all other services will continue using the M4 carbine and M16 rifles. The Army cancelled the Individual Carbine competition without selecting a replacement rifle and instead plans to equip soldiers with the improved M4A1.