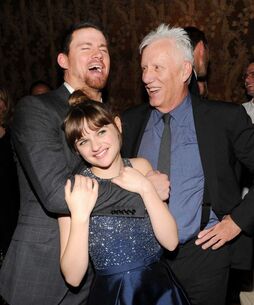 Joey Lynn King
(born July 30, 1999) is an American teen actress. Known for her starring role as Ramona Quimby in Ramona and Beezus, the 2010 adaption of Beverly Cleary's book series with the same title with Selena Gomez.
She portrayed Emily Cale in White House Down.
King's first commercial was a national spot for Life. Since then, she has completed over 104 commercials including national campaigns for Eggo and Walmart. She then appeared in her first film, Grace, shot when she was six years old. King has been featured in the films Reign Over Me with Adam Sandler, and Quarantine. She voiced the yellow fur ball Katie, for the animated feature Horton Hears A Who! (2008), and Beaver, for Ice Age: Dawn of the Dinosaurs (2009). In 2010, she guest starred in the series Ghost Whisperer. She was also featured in The Suite Life of Zack & Cody as Emily Mason in two episodes. Other television appearances include Entourage, CSI, and Medium. King's first lead role was in the 2010 film Ramona and Beezus, an adaption of the Beverly Cleary book series, starring as Ramona Quimby opposite Selena Gomez as her older sister, Beezus Quimby. She also released a single for the movie called "Ramona Blue". King was featured in Battle: Los Angeles, where she played a girl named Kirsten. Also in 2011, she co-starred in Crazy, Stupid, Love. She also appeared in Taylor Swift's "Mean" music video as a young student at the school cafeteria rejected by her peers. King had a role in Christopher Nolan's third Batman film, The Dark Knight Rises (2012), as a young Talia al Ghul. She also filmed the short-lived comedy series Bent and had guest appearances in New Girl and The Haunting Hour. In 2013, King was featured in three films: Oz the Great and Powerful with James Franco, White House Down with Channing Tatum and Jamie Foxx, and The Conjuring with Mackenzie Foy and Vera Farmiga. In addition, she starred in Family Weekend. She is currently shooting Wish I Was Here with Oz co-star Zach Braff.
King was born in Los Angeles, California on July 30, 1999. Her older sisters Hunter King and Kelli King are also actresses. King has stated that she is "part Jewish and part Christian, but I'm mostly Jewish".