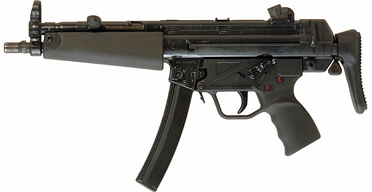 The Heckler and Koch MP5A3
(from German: Maschinenpistole 5, "machine pistol model 5") is a 9mm submachine gun of German design, developed in the 1960s by a group of engineers from the West German arms manufacturer Heckler & Koch GmbH (H&K) of Oberndorf am Neckar.
The MP5A3 was Motts' main weapon in White House Down.
Description
Edit
The MP5A3 is the MP5A2 with a retractible metal stock. The gun weighs only around five pounds. The primary version of the MP5 family is the MP5A2, which is a lightweight, air-cooled, selective fire delayed blowback operated weapon with a roller-delayed bolt. It fires from a closed bolt (bolt forward) position. The MP5 has a "SEF" trigger group.
The fixed, free floating, cold hammer-forged barrel has 6 right-hand grooves with a 1 in 250 mm (1:10 in) rifling twist rate and is pressed and pinned into the receiver.
The MP5 is one of the most widely used submachine guns in the world, having been adopted by 40 nations and numerous military, law enforcement, intelligence, and security organizations. There are over 100 variants of the MP5, including a semi-automatic version.
In the 1990s, Heckler & Koch developed the Heckler & Koch UMP, the MP5's successor; both are available as of 2014.