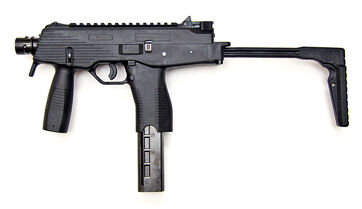 The Brügger & Thomet MP9
(
Machine Pistol 9mm
) is a submachine gun designed and manufactured by Brügger & Thomet of Switzerland.
It was used in White House Down.
Description
Edit
The MP9 is a selective-fire 9×19mm Parabellum caliber machine pistol. It uses 15, 20, 25, and 30 round transparent polymer detachable box magazines. It has three safeties; ambidextrous safety/fire mode selector switch button (manual safety), trigger safety and drop safety. The MP9 is a development of the Steyr TMP. The design of TMP was purchased from Steyr in 2001. Differences from the TMP include a stock that folds to the right side of the weapon, an integrated Picatinny rail, and a new trigger safety.
The TP9 is a semi-automatic civilian variant of MP9. Its design is similar to the Steyr SPP, but its differential feature is an underbarrel MIL-STD-1913 Picatinny Rail, which is installed in front of the trigger guard, in place of the forward grip. The TP9SF is superficially similar, though it is selective-fire rather than semi-auto only. A version chambered in 6.5×25mm CBJ is under development, a barrel swap is all that should be required to convert to 6.5 mm.
Later variants (MP9-N, MP45) have new designed ambidextrous three-position selectors. The old Steyr style cross-bolt push button selectors are replaced with new "HK" style selectors.